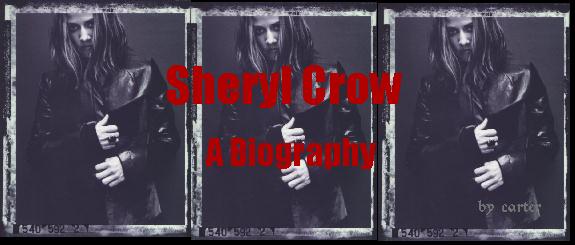 Written by: Carter 8-5-99
Updated: 04-02-02


&nbsp She was born in November….. well ok… no she really wasn't. Sheryl Suzanne Crow was born on February 11, 1962 to proud parents Wendell and Bernice of Kennett, Missouri. Both Wendell and Bernice were musically inclined and this prompted Sheryl to begin piano lessons around age 5. I also heard that she wrote her first song at age 13. I think I wrote a song when I was 13, it was about life, love, betrayal, and how cool it would be to go on tour with the New Kids On The Block. But enough about me… Sheryl, so I have heard, was very popular in High School. She was a cheerleader and a majorette and still had time for piano lessons. She attended college at The University of Missouri, where she majored in music composition, performance, and teaching. There she performed in Cashmere, a rock n roll cover band. After graduation, Sheryl worked as a music teacher for kids with special needs in elementary schools. Can you imagine the spin she must have put on "twinkle twinkle little star"?

&nbsp Somewhere between here and there…Sheryl left Missouri. I heard her, in an interview once, say that she was in a relationship that wasn't what she wanted and that she just wanted to get out. I also heard that she was engaged. In any case, she writes some awesome songs about loving , losing and leaving, so I assume that she has done them all at least once in her day. What is it they say about assuming? So, she got out of Missouri, well, where was she going? "This ain't no disco….this ain't no country club either…this is LA". Yep, she headed out for LA. There she worked as a waitress, and got a few gigs singing in some commercials. She heard that Michael Jackson was auditioning for back up singers but she also heard that you needed special invitation to audition. She didn't care, she went anyway, and they gave her an audition and I guess she blew them away because the next thing you know, she's moonwalking and singing "You know I'm bad, I'm bad…". So, people talk, and we all know that. Well, it has been said that Sheryl and Michael were "romantically linked". I doubt it…but hey what do I know, Lisa Marie found something she liked in him, must be the glove.

&nbsp Yadda…yadda…yadda… she was depressed for a while, but we all get depressed. I chose not to include details about her time of depression because I didn't think that it was important…oh yeah and because I don't know that much about it. Except, that it probably gave her a lot of inspiration in her songwriting, and for that I am grateful for depression.

&nbsp A & M Records was the next stop on the Sheryl train to stardom. A producer heard Sheryl singing and decided what we all know… that she RULED, and he gave her demo to A&M Records who agreed that, indeed, Sheryl was very talented. There were some problems with her producer but, eventually, Sheryl was able to release Tuesday Night Music Club in 1993. The name of this album came about because Sheryl and a bunch of friends used to get together on Tuesday nights and jam, they called themselves the Tuesday Night Music Club.

&nbsp Sheryl released her second self-titled, self-produced album in 1996. It was a success, it spawned off several singles such as "Everyday is a winding road", "If it makes you happy" and they ever popular- Wal-Mart's favorite song "Love is a good thing". "Wal-Mart?" You ask. If you are a true Sheryl fan, you will remember the first few lines of that song… "watch out sister, watch out brother, watch our children as they kill each other, with a gun they bought at Wal-Mart discount store". Supposedly, Wally world was caught on hidden camera selling guns to kids under the age of 18. And, although Sheryl was doing nothing but stating a fact, Wally world refused to sell her CD's. But A&M stood behind her and the song stayed. I think Wally world should be the one crying now because that album sold millions…How ya like them apples?

&nbsp So, she toured with the STONES for a while and she released The Globe Sessions. Interestingly enough, I think I bought my copy at… where was it… oh yeah Wal-Mart! The Globe Sessions was awarded a Grammy for best rock album. It spawned and is still spawning several hit singles such as "My Favorite Mistake" and "Anything But Down". Sheryl performed at Woodstock 99, which she had also done 5 years earlier at Woodstock 94. Also, while on tour, she did several dates with Lilith fair.

&nbsp Sheryl did a remake of the Guns N Roses song "Sweet Child of Mine" for the Big Daddy Soundtrack in 1999. Sheryl also released Sheryl Crow and Friends Live In Central Park on December 7, 1999. On this album she played with great artists such as The Dixie Chicks, Eric Clapton, Stevie Nicks, and many more. It's a really great album. (All of her albums are great)

&nbsp Sheryl won a grammy for Best Female Rock Vocal Performance at the 43rd Annual (2001) Grammy Awards on February 21, 2001 for the song "There Goes The Neighborhood" off the Live From Central Park Album.

&nbsp Sheryl's new album C'mon, C'mon is due out April 16, 2002. It features the hit single "Soak up the Sun".

&nbsp A personal note: I think Sheryl is going to be the next Elvis! Except for the part about dying on the toilet and peanut butter and banana sandwiches. And, Sheryl, if you ever read this, just know that I did my best, with what I had, to tell the story of your life in a way that is not only humorous, but informative. And feel free to email me anytime you want me to go on tour with you or…wash your car or dog or something.


Wal-Mart- please don't sue me for using your name, I thoroughly enjoy shopping amongst your massive isles of goods and healthcare items. Sheryl's people- if any of this is not true, I am sorry. Most of the information I have on this page was gathered from other biographies on the internet from some magazines, and from some TV interviews I have seen. The sole purpose of this biography is to inform the typical Sheryl Crow fan of some facts that they may or may not have already known.